Joseph P. Kennedy Presents: His Hollywood Years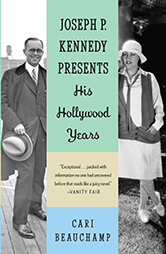 "Cari Beauchamp has dug deep into my mother's files and records and emerged to finally tell the real story of Gloria Swanson's relationship with Joe Kennedy. No one else has been as honest or as thorough."
– Michelle Farmer Amon, daughter of Gloria Swanson
Joseph P. Kennedy Presents: His Hollywood Years is the story of Joe Kennedy's remarkable reign running three studios and a theater circuit simultaneously. He was pivotal in the transition from silent films to sound, masterminded the mergers that created the blueprint for contemporary Hollywood and made the fortune that became the foundation of his empire.
Cari Beauchamp was one of the first to be allowed access to Kennedy's personal papers, hundreds of feet of material that include a maze of deals, memos and letters that had been locked away for decades. Her years of meticulous research included original interviews with those who had never cooperated with biographers before such as Gloria Swanson's daughter, Michelle Amon; Marlene Dietrich's daughter, Maria Riva; Joan Fontaine, Tina Sinatra and family members of Kennedy's business partners. Their stories, along with those of Gore Vidal, Arlene Dahl and many other witnesses reveals Kennedy as a complex and complicated father, husband and businessman and shatters much of the "common knowledge" previously assumed about him.
In 1919, few were taking filmmaking seriously as business, but Kennedy spotted it as "a gold mine." He was 31 years old and over the next seven years, he juggled his work on Wall Street with optioning stars such as Babe Ruth, running a film distribution company, creating an advertising corporation and serving on the board of RC Film Corporation, soon to become FBO. In 1926, Kennedy bought FBO, moved to Rodeo Drive in Beverly Hills and over the next several years, he used his multiple talents to become President of FBO, Chairman of the Board of both Pathe and Keith Albee Orpheum and head of the gigantic First National. Surrounded by a cordon of loyal lieutenants, Kennedy moved so fast and so authoritatively, Louella Parsons hailed him as the "coming Napoleon of the movie business," yet by 1931, he was gone, millions of dollars richer.
For the first time, Joseph P. Kennedy Presents discloses the full story of Kennedy's love affair and business arrangement with the "reigning Queen of the movies" Gloria Swanson. Beginning with his promise that "together we can make millions," they rode the disastrous roller coaster of their Erich von Stroheim epic Queen Kelly to end with Swanson over a million dollars in debt and on the brink of professional ruin. Here, too, are Kennedy's friendships with Marlene Dietrich and scores of other stars as well as his ruination of the life and career of Fred Thomson and his betrayal of two of his key business partners. Then there are Kennedy's relationships with fellow Hollywood titans such as William Randolph Hearst, Cecil B. DeMille, Louis B. Mayer, Irving Thalberg, and David Sarnoff with whom Kennedy created RKO, the first studio to exclusively produce sound films, and that netted Kennedy millions in pure profits.
This star studded tale of personal greed, business genius and perfect timing exposes how Joseph P. Kennedy charmed, cajoled, railed and manipulated – all the while being highly praised in the press and rarely taking his eye off the bottom line of his growing bank account. Beauchamp brings to light how Kennedy made his fortune, what he left in his path, how he changed the business of movie making and how he took what he learned to turn himself and his family into international celebrities. As film pioneer Jesse Lasky's daughter, Betty, sums up Kennedy's success, "He was the first and only outsider to fleece Hollywood."
Other Titles: